It is finished, and ends as it was always likely to. Villa couldn't find a way through after Luis Sinisterra's sending-off in the early part of the half. They have a first away point of the season but that's not nearly enough for Steven Gerrard. Boos aplenty at full-time, from the away fans and for the referee, who gave a red card that delivered the letter of the rules law. A fair result, a frankly horrible match.

","elementId":"bebb0bba-ccd8-41f0-a704-b01cfec656c1″},{"_type":"model.dotcomrendering.pageElements.ImageBlockElement","media":{"allImages":[{"index":0,"fields":{"height":"1992″,"width":"2813″},"mediaType":"Image","mimeType":"image/jpeg","url":"https://media.guim.co.uk/00f8987de5d8776bbb67b6effeda3659f0679cfa/0_0_2813_1992/2813.jpg"},{"index":1,"fields":{"isMaster":"true","height":"1992″,"width":"2813″},"mediaType":"Image","mimeType":"image/jpeg","url":"https://media.guim.co.uk/00f8987de5d8776bbb67b6effeda3659f0679cfa/0_0_2813_1992/master/2813.jpg"},{"index":2,"fields":{"height":"1416″,"width":"2000″},"mediaType":"Image","mimeType":"image/jpeg","url":"https://media.guim.co.uk/00f8987de5d8776bbb67b6effeda3659f0679cfa/0_0_2813_1992/2000.jpg"},{"index":3,"fields":{"height":"708″,"width":"1000″},"mediaType":"Image","mimeType":"image/jpeg","url":"https://media.guim.co.uk/00f8987de5d8776bbb67b6effeda3659f0679cfa/0_0_2813_1992/1000.jpg"},{"index":4,"fields":{"height":"354″,"width":"500″},"mediaType":"Image","mimeType":"image/jpeg","url":"https://media.guim.co.uk/00f8987de5d8776bbb67b6effeda3659f0679cfa/0_0_2813_1992/500.jpg"},{"index":5,"fields":{"height":"99″,"width":"140″},"mediaType":"Image","mimeType":"image/jpeg","url":"https://media.guim.co.uk/00f8987de5d8776bbb67b6effeda3659f0679cfa/0_0_2813_1992/140.jpg"}]},"data":{"alt":"Leeds will be happy with the point. Villa, not so much.","caption":"Leeds will be happy with the point. Villa, not so much.","credit":"Photograph: Lee Smith/Action Images/Reuters"},"displayCredit":true,"role":"inline","imageSources":[{"weighting":"inline","srcSet":[{"src":"https://i.guim.co.uk/img/media/00f8987de5d8776bbb67b6effeda3659f0679cfa/0_0_2813_1992/master/2813.jpg?width=620&quality=85&auto=format&fit=max&s=e9b4b1b9010e6aacf698b88f66e46e3b","width":620},{"src":"https://i.guim.co.uk/img/media/00f8987de5d8776bbb67b6effeda3659f0679cfa/0_0_2813_1992/master/2813.jpg?width=620&quality=45&auto=format&fit=max&dpr=2&s=d5e77bfdf652f4ce38334f6e916125fe","width":1240},{"src":"https://i.guim.co.uk/img/media/00f8987de5d8776bbb67b6effeda3659f0679cfa/0_0_2813_1992/master/2813.jpg?width=605&quality=85&auto=format&fit=max&s=e80115854b619bee6f00e56d863e9220″,"width":605},{"src":"https://i.guim.co.uk/img/media/00f8987de5d8776bbb67b6effeda3659f0679cfa/0_0_2813_1992/master/2813.jpg?width=605&quality=45&auto=format&fit=max&dpr=2&s=5aedf5d7e6a98f90cb2f6f63e04ef08b","width":1210},{"src":"https://i.guim.co.uk/img/media/00f8987de5d8776bbb67b6effeda3659f0679cfa/0_0_2813_1992/master/2813.jpg?width=445&quality=85&auto=format&fit=max&s=4f377c922a0381e7a9da6cd9584b4095″,"width":445},{"src":"https://i.guim.co.uk/img/media/00f8987de5d8776bbb67b6effeda3659f0679cfa/0_0_2813_1992/master/2813.jpg?width=445&quality=45&auto=format&fit=max&dpr=2&s=0937b032e6e0c4ddb5335f59fed59f54″,"width":890}]},{"weighting":"thumbnail","srcSet":[{"src":"https://i.guim.co.uk/img/media/00f8987de5d8776bbb67b6effeda3659f0679cfa/0_0_2813_1992/master/2813.jpg?width=140&quality=85&auto=format&fit=max&s=86eb9dfd1c40cec37efdb569c4d0b193″,"width":140},{"src":"https://i.guim.co.uk/img/media/00f8987de5d8776bbb67b6effeda3659f0679cfa/0_0_2813_1992/master/2813.jpg?width=140&quality=45&auto=format&fit=max&dpr=2&s=cf6647c4b66749929beddaaeed061bc1″,"width":280},{"src":"https://i.guim.co.uk/img/media/00f8987de5d8776bbb67b6effeda3659f0679cfa/0_0_2813_1992/master/2813.jpg?width=120&quality=85&auto=format&fit=max&s=b744398d6a86a520258638d97e0a8c38″,"width":120},{"src":"https://i.guim.co.uk/img/media/00f8987de5d8776bbb67b6effeda3659f0679cfa/0_0_2813_1992/master/2813.jpg?width=120&quality=45&auto=format&fit=max&dpr=2&s=a83b9c70fdbf30661a5ec5b1d9248ea7″,"width":240}]},{"weighting":"supporting","srcSet":[{"src":"https://i.guim.co.uk/img/media/00f8987de5d8776bbb67b6effeda3659f0679cfa/0_0_2813_1992/master/2813.jpg?width=380&quality=85&auto=format&fit=max&s=6968c7eef32ae2016e1f1519570660f0″,"width":380},{"src":"https://i.guim.co.uk/img/media/00f8987de5d8776bbb67b6effeda3659f0679cfa/0_0_2813_1992/master/2813.jpg?width=380&quality=45&auto=format&fit=max&dpr=2&s=54980ccd1745066aebeae2c557dde8ea","width":760},{"src":"https://i.guim.co.uk/img/media/00f8987de5d8776bbb67b6effeda3659f0679cfa/0_0_2813_1992/master/2813.jpg?width=300&quality=85&auto=format&fit=max&s=da423eae5bd5ce4dcebee83e1232719b","width":300},{"src":"https://i.guim.co.uk/img/media/00f8987de5d8776bbb67b6effeda3659f0679cfa/0_0_2813_1992/master/2813.jpg?width=300&quality=45&auto=format&fit=max&dpr=2&s=e547a5c8bfce33c871138467aa324afa","width":600},{"src":"https://i.guim.co.uk/img/media/00f8987de5d8776bbb67b6effeda3659f0679cfa/0_0_2813_1992/master/2813.jpg?width=620&quality=85&auto=format&fit=max&s=e9b4b1b9010e6aacf698b88f66e46e3b","width":620},{"src":"https://i.guim.co.uk/img/media/00f8987de5d8776bbb67b6effeda3659f0679cfa/0_0_2813_1992/master/2813.jpg?width=620&quality=45&auto=format&fit=max&dpr=2&s=d5e77bfdf652f4ce38334f6e916125fe","width":1240},{"src":"https://i.guim.co.uk/img/media/00f8987de5d8776bbb67b6effeda3659f0679cfa/0_0_2813_1992/master/2813.jpg?width=605&quality=85&auto=format&fit=max&s=e80115854b619bee6f00e56d863e9220″,"width":605},{"src":"https://i.guim.co.uk/img/media/00f8987de5d8776bbb67b6effeda3659f0679cfa/0_0_2813_1992/master/2813.jpg?width=605&quality=45&auto=format&fit=max&dpr=2&s=5aedf5d7e6a98f90cb2f6f63e04ef08b","width":1210},{"src":"https://i.guim.co.uk/img/media/00f8987de5d8776bbb67b6effeda3659f0679cfa/0_0_2813_1992/master/2813.jpg?width=445&quality=85&auto=format&fit=max&s=4f377c922a0381e7a9da6cd9584b4095″,"width":445},{"src":"https://i.guim.co.uk/img/media/00f8987de5d8776bbb67b6effeda3659f0679cfa/0_0_2813_1992/master/2813.jpg?width=445&quality=45&auto=format&fit=max&dpr=2&s=0937b032e6e0c4ddb5335f59fed59f54″,"width":890}]},{"weighting":"showcase","srcSet":[{"src":"https://i.guim.co.uk/img/media/00f8987de5d8776bbb67b6effeda3659f0679cfa/0_0_2813_1992/master/2813.jpg?width=860&quality=85&auto=format&fit=max&s=bfa4c25051ee54dfc316bf8d8a0d1624″,"width":860},{"src":"https://i.guim.co.uk/img/media/00f8987de5d8776bbb67b6effeda3659f0679cfa/0_0_2813_1992/master/2813.jpg?width=860&quality=45&auto=format&fit=max&dpr=2&s=d6c8827df02351c0029762bf68b78c96″,"width":1720},{"src":"https://i.guim.co.uk/img/media/00f8987de5d8776bbb67b6effeda3659f0679cfa/0_0_2813_1992/master/2813.jpg?width=780&quality=85&auto=format&fit=max&s=4b5b01be69ef0171864871494c051bb7″,"width":780},{"src":"https://i.guim.co.uk/img/media/00f8987de5d8776bbb67b6effeda3659f0679cfa/0_0_2813_1992/master/2813.jpg?width=780&quality=45&auto=format&fit=max&dpr=2&s=c68a10b3c4104ef4b96be9f624d135cf","width":1560},{"src":"https://i.guim.co.uk/img/media/00f8987de5d8776bbb67b6effeda3659f0679cfa/0_0_2813_1992/master/2813.jpg?width=620&quality=85&auto=format&fit=max&s=e9b4b1b9010e6aacf698b88f66e46e3b","width":620},{"src":"https://i.guim.co.uk/img/media/00f8987de5d8776bbb67b6effeda3659f0679cfa/0_0_2813_1992/master/2813.jpg?width=620&quality=45&auto=format&fit=max&dpr=2&s=d5e77bfdf652f4ce38334f6e916125fe","width":1240},{"src":"https://i.guim.co.uk/img/media/00f8987de5d8776bbb67b6effeda3659f0679cfa/0_0_2813_1992/master/2813.jpg?width=605&quality=85&auto=format&fit=max&s=e80115854b619bee6f00e56d863e9220″,"width":605},{"src":"https://i.guim.co.uk/img/media/00f8987de5d8776bbb67b6effeda3659f0679cfa/0_0_2813_1992/master/2813.jpg?width=605&quality=45&auto=format&fit=max&dpr=2&s=5aedf5d7e6a98f90cb2f6f63e04ef08b","width":1210},{"src":"https://i.guim.co.uk/img/media/00f8987de5d8776bbb67b6effeda3659f0679cfa/0_0_2813_1992/master/2813.jpg?width=445&quality=85&auto=format&fit=max&s=4f377c922a0381e7a9da6cd9584b4095″,"width":445},{"src":"https://i.guim.co.uk/img/media/00f8987de5d8776bbb67b6effeda3659f0679cfa/0_0_2813_1992/master/2813.jpg?width=445&quality=45&auto=format&fit=max&dpr=2&s=0937b032e6e0c4ddb5335f59fed59f54″,"width":890}]},{"weighting":"halfwidth","srcSet":[{"src":"https://i.guim.co.uk/img/media/00f8987de5d8776bbb67b6effeda3659f0679cfa/0_0_2813_1992/master/2813.jpg?width=620&quality=85&auto=format&fit=max&s=e9b4b1b9010e6aacf698b88f66e46e3b","width":620},{"src":"https://i.guim.co.uk/img/media/00f8987de5d8776bbb67b6effeda3659f0679cfa/0_0_2813_1992/master/2813.jpg?width=620&quality=45&auto=format&fit=max&dpr=2&s=d5e77bfdf652f4ce38334f6e916125fe","width":1240},{"src":"https://i.guim.co.uk/img/media/00f8987de5d8776bbb67b6effeda3659f0679cfa/0_0_2813_1992/master/2813.jpg?width=605&quality=85&auto=format&fit=max&s=e80115854b619bee6f00e56d863e9220″,"width":605},{"src":"https://i.guim.co.uk/img/media/00f8987de5d8776bbb67b6effeda3659f0679cfa/0_0_2813_1992/master/2813.jpg?width=605&quality=45&auto=format&fit=max&dpr=2&s=5aedf5d7e6a98f90cb2f6f63e04ef08b","width":1210},{"src":"https://i.guim.co.uk/img/media/00f8987de5d8776bbb67b6effeda3659f0679cfa/0_0_2813_1992/master/2813.jpg?width=445&quality=85&auto=format&fit=max&s=4f377c922a0381e7a9da6cd9584b4095″,"width":445},{"src":"https://i.guim.co.uk/img/media/00f8987de5d8776bbb67b6effeda3659f0679cfa/0_0_2813_1992/master/2813.jpg?width=445&quality=45&auto=format&fit=max&dpr=2&s=0937b032e6e0c4ddb5335f59fed59f54″,"width":890}]},{"weighting":"immersive","srcSet":[{"src":"https://i.guim.co.uk/img/media/00f8987de5d8776bbb67b6effeda3659f0679cfa/0_0_2813_1992/master/2813.jpg?width=1900&quality=85&auto=format&fit=max&s=0ed399ea97b876b4133334d8eb7b6f09″,"width":1900},{"src":"https://i.guim.co.uk/img/media/00f8987de5d8776bbb67b6effeda3659f0679cfa/0_0_2813_1992/master/2813.jpg?width=1900&quality=45&auto=format&fit=max&dpr=2&s=02076fd04aa02d849f73dab9e0152ccf","width":3800},{"src":"https://i.guim.co.uk/img/media/00f8987de5d8776bbb67b6effeda3659f0679cfa/0_0_2813_1992/master/2813.jpg?width=1300&quality=85&auto=format&fit=max&s=d99f00a267ca85b9aacd905c4b8c7494″,"width":1300},{"src":"https://i.guim.co.uk/img/media/00f8987de5d8776bbb67b6effeda3659f0679cfa/0_0_2813_1992/master/2813.jpg?width=1300&quality=45&auto=format&fit=max&dpr=2&s=327570e9fd84e1c02c5f8d5de494df9e","width":2600},{"src":"https://i.guim.co.uk/img/media/00f8987de5d8776bbb67b6effeda3659f0679cfa/0_0_2813_1992/master/2813.jpg?width=1140&quality=85&auto=format&fit=max&s=9e7f84a47f92c7fd62b5fe70812066a4″,"width":1140},{"src":"https://i.guim.co.uk/img/media/00f8987de5d8776bbb67b6effeda3659f0679cfa/0_0_2813_1992/master/2813.jpg?width=1140&quality=45&auto=format&fit=max&dpr=2&s=92ebad72a630720dec8c045aa3e196a3″,"width":2280},{"src":"https://i.guim.co.uk/img/media/00f8987de5d8776bbb67b6effeda3659f0679cfa/0_0_2813_1992/master/2813.jpg?width=980&quality=85&auto=format&fit=max&s=6e232a4897d0c79633489d47d8298216″,"width":980},{"src":"https://i.guim.co.uk/img/media/00f8987de5d8776bbb67b6effeda3659f0679cfa/0_0_2813_1992/master/2813.jpg?width=980&quality=45&auto=format&fit=max&dpr=2&s=ec623eb36e6f60c63840804fe618ca95″,"width":1960},{"src":"https://i.guim.co.uk/img/media/00f8987de5d8776bbb67b6effeda3659f0679cfa/0_0_2813_1992/master/2813.jpg?width=740&quality=85&auto=format&fit=max&s=927a53887cd2cebb1955c43614859e7f","width":740},{"src":"https://i.guim.co.uk/img/media/00f8987de5d8776bbb67b6effeda3659f0679cfa/0_0_2813_1992/master/2813.jpg?width=740&quality=45&auto=format&fit=max&dpr=2&s=7f823971c1f92d050e164775b23b0fa7″,"width":1480},{"src":"https://i.guim.co.uk/img/media/00f8987de5d8776bbb67b6effeda3659f0679cfa/0_0_2813_1992/master/2813.jpg?width=660&quality=85&auto=format&fit=max&s=39336925e223176139e297065c7b9713″,"width":660},{"src":"https://i.guim.co.uk/img/media/00f8987de5d8776bbb67b6effeda3659f0679cfa/0_0_2813_1992/master/2813.jpg?width=660&quality=45&auto=format&fit=max&dpr=2&s=692a1fb945812f98d68791e3ab25dd86″,"width":1320},{"src":"https://i.guim.co.uk/img/media/00f8987de5d8776bbb67b6effeda3659f0679cfa/0_0_2813_1992/master/2813.jpg?width=480&quality=85&auto=format&fit=max&s=2e6330c9356504cc64236f0c3a68cb07″,"width":480},{"src":"https://i.guim.co.uk/img/media/00f8987de5d8776bbb67b6effeda3659f0679cfa/0_0_2813_1992/master/2813.jpg?width=480&quality=45&auto=format&fit=max&dpr=2&s=cc718409dac556df5644e3cd9072d977″,"width":960}]}],"elementId":"adde0933-42b3-4cf5-bc49-eb9d61472476″}],"attributes":{"pinned":false,"keyEvent":true,"summary":false},"blockCreatedOn":1664731529000,"blockCreatedOnDisplay":"18.25 BST","blockLastUpdated":1664731989000,"blockLastUpdatedDisplay":"18.33 BST","blockFirstPublished":1664731710000,"blockFirstPublishedDisplay":"18.28 BST","blockFirstPublishedDisplayNoTimezone":"18.28″,"title":"Full-time: Leeds 0-0 Aston Villa","contributors":[],"primaryDateLine":"Sun 2 Oct 2022 18.33 BST","secondaryDateLine":"First published on Sun 2 Oct 2022 15.30 BST"},{"id":"6339beb38f08ec87f1106a39″,"elements":[{"_type":"model.dotcomrendering.pageElements.TextBlockElement","html":"

He takes a while to leave the field, red-carded for a second bookable, this being his failure to retreat after the foul on Ramsey. He wafted his leg in front of the resultant free-kick. Petulant, daft, no need, and Coach Marsch has his head in his hands. Stuart Attwell had no choice. Those are the rules. Silly boy.

","elementId":"4b883641-53e5-4d6f-bb2c-1c6e1e1ada21″},{"_type":"model.dotcomrendering.pageElements.ImageBlockElement","media":{"allImages":[{"index":0,"fields":{"height":"1489″,"width":"2229″},"mediaType":"Image","mimeType":"image/jpeg","url":"https://media.guim.co.uk/e147616c606d7e5ae844cefbca51ad68ddc61ec6/0_0_2229_1489/2229.jpg"},{"index":1,"fields":{"isMaster":"true","height":"1489″,"width":"2229″},"mediaType":"Image","mimeType":"image/jpeg","url":"https://media.guim.co.uk/e147616c606d7e5ae844cefbca51ad68ddc61ec6/0_0_2229_1489/master/2229.jpg"},{"index":2,"fields":{"height":"1336″,"width":"2000″},"mediaType":"Image","mimeType":"image/jpeg","url":"https://media.guim.co.uk/e147616c606d7e5ae844cefbca51ad68ddc61ec6/0_0_2229_1489/2000.jpg"},{"index":3,"fields":{"height":"668″,"width":"1000″},"mediaType":"Image","mimeType":"image/jpeg","url":"https://media.guim.co.uk/e147616c606d7e5ae844cefbca51ad68ddc61ec6/0_0_2229_1489/1000.jpg"},{"index":4,"fields":{"height":"334″,"width":"500″},"mediaType":"Image","mimeType":"image/jpeg","url":"https://media.guim.co.uk/e147616c606d7e5ae844cefbca51ad68ddc61ec6/0_0_2229_1489/500.jpg"},{"index":5,"fields":{"height":"94″,"width":"140″},"mediaType":"Image","mimeType":"image/jpeg","url":"https://media.guim.co.uk/e147616c606d7e5ae844cefbca51ad68ddc61ec6/0_0_2229_1489/140.jpg"}]},"data":{"alt":"It's a red card for Luis Sinisterra.","caption":"It's a red card for Luis Sinisterra.","credit":"Photograph: Lee Smith/Action Images/Reuters"},"displayCredit":true,"role":"inline","imageSources":[{"weighting":"inline","srcSet":[{"src":"https://i.guim.co.uk/img/media/e147616c606d7e5ae844cefbca51ad68ddc61ec6/0_0_2229_1489/master/2229.jpg?width=620&quality=85&auto=format&fit=max&s=9453e96220e6bf209454dcc98b417e02″,"width":620},{"src":"https://i.guim.co.uk/img/media/e147616c606d7e5ae844cefbca51ad68ddc61ec6/0_0_2229_1489/master/2229.jpg?width=620&quality=45&auto=format&fit=max&dpr=2&s=40520f72a8c981b418012fad30c0817c","width":1240},{"src":"https://i.guim.co.uk/img/media/e147616c606d7e5ae844cefbca51ad68ddc61ec6/0_0_2229_1489/master/2229.jpg?width=605&quality=85&auto=format&fit=max&s=fe1907c6a9982c934d7940a6cd331948″,"width":605},{"src":"https://i.guim.co.uk/img/media/e147616c606d7e5ae844cefbca51ad68ddc61ec6/0_0_2229_1489/master/2229.jpg?width=605&quality=45&auto=format&fit=max&dpr=2&s=078ac61920ea9bfba3bc6582232d8a66″,"width":1210},{"src":"https://i.guim.co.uk/img/media/e147616c606d7e5ae844cefbca51ad68ddc61ec6/0_0_2229_1489/master/2229.jpg?width=445&quality=85&auto=format&fit=max&s=9fe00e3084a1371c9761cb822e836752″,"width":445},{"src":"https://i.guim.co.uk/img/media/e147616c606d7e5ae844cefbca51ad68ddc61ec6/0_0_2229_1489/master/2229.jpg?width=445&quality=45&auto=format&fit=max&dpr=2&s=10721f3b892ea1f21d4f37742a93a99d","width":890}]},{"weighting":"thumbnail","srcSet":[{"src":"https://i.guim.co.uk/img/media/e147616c606d7e5ae844cefbca51ad68ddc61ec6/0_0_2229_1489/master/2229.jpg?width=140&quality=85&auto=format&fit=max&s=43f25c59e35215488395913200dd51af","width":140},{"src":"https://i.guim.co.uk/img/media/e147616c606d7e5ae844cefbca51ad68ddc61ec6/0_0_2229_1489/master/2229.jpg?width=140&quality=45&auto=format&fit=max&dpr=2&s=07d008ed2fb85853911c5ea1716d8d93″,"width":280},{"src":"https://i.guim.co.uk/img/media/e147616c606d7e5ae844cefbca51ad68ddc61ec6/0_0_2229_1489/master/2229.jpg?width=120&quality=85&auto=format&fit=max&s=96f0e04b4b1770b280451e7a428788ea","width":120},{"src":"https://i.guim.co.uk/img/media/e147616c606d7e5ae844cefbca51ad68ddc61ec6/0_0_2229_1489/master/2229.jpg?width=120&quality=45&auto=format&fit=max&dpr=2&s=6446b91d5c52133e0228746548d03db3″,"width":240}]},{"weighting":"supporting","srcSet":[{"src":"https://i.guim.co.uk/img/media/e147616c606d7e5ae844cefbca51ad68ddc61ec6/0_0_2229_1489/master/2229.jpg?width=380&quality=85&auto=format&fit=max&s=1dd95a2aacba32127b92499c88f161d0″,"width":380},{"src":"https://i.guim.co.uk/img/media/e147616c606d7e5ae844cefbca51ad68ddc61ec6/0_0_2229_1489/master/2229.jpg?width=380&quality=45&auto=format&fit=max&dpr=2&s=0c1e3114589e2d3965eaaa088b95b709″,"width":760},{"src":"https://i.guim.co.uk/img/media/e147616c606d7e5ae844cefbca51ad68ddc61ec6/0_0_2229_1489/master/2229.jpg?width=300&quality=85&auto=format&fit=max&s=a7ccc012c35240520f330328e4f8cde8″,"width":300},{"src":"https://i.guim.co.uk/img/media/e147616c606d7e5ae844cefbca51ad68ddc61ec6/0_0_2229_1489/master/2229.jpg?width=300&quality=45&auto=format&fit=max&dpr=2&s=29ac6dd5484f3c9d66c98859d211ab5e","width":600},{"src":"https://i.guim.co.uk/img/media/e147616c606d7e5ae844cefbca51ad68ddc61ec6/0_0_2229_1489/master/2229.jpg?width=620&quality=85&auto=format&fit=max&s=9453e96220e6bf209454dcc98b417e02″,"width":620},{"src":"https://i.guim.co.uk/img/media/e147616c606d7e5ae844cefbca51ad68ddc61ec6/0_0_2229_1489/master/2229.jpg?width=620&quality=45&auto=format&fit=max&dpr=2&s=40520f72a8c981b418012fad30c0817c","width":1240},{"src":"https://i.guim.co.uk/img/media/e147616c606d7e5ae844cefbca51ad68ddc61ec6/0_0_2229_1489/master/2229.jpg?width=605&quality=85&auto=format&fit=max&s=fe1907c6a9982c934d7940a6cd331948″,"width":605},{"src":"https://i.guim.co.uk/img/media/e147616c606d7e5ae844cefbca51ad68ddc61ec6/0_0_2229_1489/master/2229.jpg?width=605&quality=45&auto=format&fit=max&dpr=2&s=078ac61920ea9bfba3bc6582232d8a66″,"width":1210},{"src":"https://i.guim.co.uk/img/media/e147616c606d7e5ae844cefbca51ad68ddc61ec6/0_0_2229_1489/master/2229.jpg?width=445&quality=85&auto=format&fit=max&s=9fe00e3084a1371c9761cb822e836752″,"width":445},{"src":"https://i.guim.co.uk/img/media/e147616c606d7e5ae844cefbca51ad68ddc61ec6/0_0_2229_1489/master/2229.jpg?width=445&quality=45&auto=format&fit=max&dpr=2&s=10721f3b892ea1f21d4f37742a93a99d","width":890}]},{"weighting":"showcase","srcSet":[{"src":"https://i.guim.co.uk/img/media/e147616c606d7e5ae844cefbca51ad68ddc61ec6/0_0_2229_1489/master/2229.jpg?width=860&quality=85&auto=format&fit=max&s=df879bf550098f05321a726ab696150d","width":860},{"src":"https://i.guim.co.uk/img/media/e147616c606d7e5ae844cefbca51ad68ddc61ec6/0_0_2229_1489/master/2229.jpg?width=860&quality=45&auto=format&fit=max&dpr=2&s=3d153b2150fb213efa997965541ce4e5″,"width":1720},{"src":"https://i.guim.co.uk/img/media/e147616c606d7e5ae844cefbca51ad68ddc61ec6/0_0_2229_1489/master/2229.jpg?width=780&quality=85&auto=format&fit=max&s=77a4285d45e5fc053f21151c1bf81429″,"width":780},{"src":"https://i.guim.co.uk/img/media/e147616c606d7e5ae844cefbca51ad68ddc61ec6/0_0_2229_1489/master/2229.jpg?width=780&quality=45&auto=format&fit=max&dpr=2&s=46f115279f01302d32e78481bb29855a","width":1560},{"src":"https://i.guim.co.uk/img/media/e147616c606d7e5ae844cefbca51ad68ddc61ec6/0_0_2229_1489/master/2229.jpg?width=620&quality=85&auto=format&fit=max&s=9453e96220e6bf209454dcc98b417e02″,"width":620},{"src":"https://i.guim.co.uk/img/media/e147616c606d7e5ae844cefbca51ad68ddc61ec6/0_0_2229_1489/master/2229.jpg?width=620&quality=45&auto=format&fit=max&dpr=2&s=40520f72a8c981b418012fad30c0817c","width":1240},{"src":"https://i.guim.co.uk/img/media/e147616c606d7e5ae844cefbca51ad68ddc61ec6/0_0_2229_1489/master/2229.jpg?width=605&quality=85&auto=format&fit=max&s=fe1907c6a9982c934d7940a6cd331948″,"width":605},{"src":"https://i.guim.co.uk/img/media/e147616c606d7e5ae844cefbca51ad68ddc61ec6/0_0_2229_1489/master/2229.jpg?width=605&quality=45&auto=format&fit=max&dpr=2&s=078ac61920ea9bfba3bc6582232d8a66″,"width":1210},{"src":"https://i.guim.co.uk/img/media/e147616c606d7e5ae844cefbca51ad68ddc61ec6/0_0_2229_1489/master/2229.jpg?width=445&quality=85&auto=format&fit=max&s=9fe00e3084a1371c9761cb822e836752″,"width":445},{"src":"https://i.guim.co.uk/img/media/e147616c606d7e5ae844cefbca51ad68ddc61ec6/0_0_2229_1489/master/2229.jpg?width=445&quality=45&auto=format&fit=max&dpr=2&s=10721f3b892ea1f21d4f37742a93a99d","width":890}]},{"weighting":"halfwidth","srcSet":[{"src":"https://i.guim.co.uk/img/media/e147616c606d7e5ae844cefbca51ad68ddc61ec6/0_0_2229_1489/master/2229.jpg?width=620&quality=85&auto=format&fit=max&s=9453e96220e6bf209454dcc98b417e02″,"width":620},{"src":"https://i.guim.co.uk/img/media/e147616c606d7e5ae844cefbca51ad68ddc61ec6/0_0_2229_1489/master/2229.jpg?width=620&quality=45&auto=format&fit=max&dpr=2&s=40520f72a8c981b418012fad30c0817c","width":1240},{"src":"https://i.guim.co.uk/img/media/e147616c606d7e5ae844cefbca51ad68ddc61ec6/0_0_2229_1489/master/2229.jpg?width=605&quality=85&auto=format&fit=max&s=fe1907c6a9982c934d7940a6cd331948″,"width":605},{"src":"https://i.guim.co.uk/img/media/e147616c606d7e5ae844cefbca51ad68ddc61ec6/0_0_2229_1489/master/2229.jpg?width=605&quality=45&auto=format&fit=max&dpr=2&s=078ac61920ea9bfba3bc6582232d8a66″,"width":1210},{"src":"https://i.guim.co.uk/img/media/e147616c606d7e5ae844cefbca51ad68ddc61ec6/0_0_2229_1489/master/2229.jpg?width=445&quality=85&auto=format&fit=max&s=9fe00e3084a1371c9761cb822e836752″,"width":445},{"src":"https://i.guim.co.uk/img/media/e147616c606d7e5ae844cefbca51ad68ddc61ec6/0_0_2229_1489/master/2229.jpg?width=445&quality=45&auto=format&fit=max&dpr=2&s=10721f3b892ea1f21d4f37742a93a99d","width":890}]},{"weighting":"immersive","srcSet":[{"src":"https://i.guim.co.uk/img/media/e147616c606d7e5ae844cefbca51ad68ddc61ec6/0_0_2229_1489/master/2229.jpg?width=1900&quality=85&auto=format&fit=max&s=048fd6a4aad888a753d1e29d59d207fb","width":1900},{"src":"https://i.guim.co.uk/img/media/e147616c606d7e5ae844cefbca51ad68ddc61ec6/0_0_2229_1489/master/2229.jpg?width=1900&quality=45&auto=format&fit=max&dpr=2&s=b6f1c99b39eb766e0060e96d6a320870″,"width":3800},{"src":"https://i.guim.co.uk/img/media/e147616c606d7e5ae844cefbca51ad68ddc61ec6/0_0_2229_1489/master/2229.jpg?width=1300&quality=85&auto=format&fit=max&s=bc95d56c000442173893136bb406f5f4″,"width":1300},{"src":"https://i.guim.co.uk/img/media/e147616c606d7e5ae844cefbca51ad68ddc61ec6/0_0_2229_1489/master/2229.jpg?width=1300&quality=45&auto=format&fit=max&dpr=2&s=c93feb146e8d6ff91b80bc9c84e61014″,"width":2600},{"src":"https://i.guim.co.uk/img/media/e147616c606d7e5ae844cefbca51ad68ddc61ec6/0_0_2229_1489/master/2229.jpg?width=1140&quality=85&auto=format&fit=max&s=deffc173e1f429c0f69d1e8b0a3e09bc","width":1140},{"src":"https://i.guim.co.uk/img/media/e147616c606d7e5ae844cefbca51ad68ddc61ec6/0_0_2229_1489/master/2229.jpg?width=1140&quality=45&auto=format&fit=max&dpr=2&s=4fb0561ed30ec8566b02165609013b03″,"width":2280},{"src":"https://i.guim.co.uk/img/media/e147616c606d7e5ae844cefbca51ad68ddc61ec6/0_0_2229_1489/master/2229.jpg?width=980&quality=85&auto=format&fit=max&s=69a486d3378fcdd6046e758de9534fe6″,"width":980},{"src":"https://i.guim.co.uk/img/media/e147616c606d7e5ae844cefbca51ad68ddc61ec6/0_0_2229_1489/master/2229.jpg?width=980&quality=45&auto=format&fit=max&dpr=2&s=ad4b6f5e8b3aa99ff104e5228d4c7dcf","width":1960},{"src":"https://i.guim.co.uk/img/media/e147616c606d7e5ae844cefbca51ad68ddc61ec6/0_0_2229_1489/master/2229.jpg?width=740&quality=85&auto=format&fit=max&s=2d2e98fb9b1ec045e31d8c01e694fa13″,"width":740},{"src":"https://i.guim.co.uk/img/media/e147616c606d7e5ae844cefbca51ad68ddc61ec6/0_0_2229_1489/master/2229.jpg?width=740&quality=45&auto=format&fit=max&dpr=2&s=4c90a2c759ab4a46fda5d5ee0785b34d","width":1480},{"src":"https://i.guim.co.uk/img/media/e147616c606d7e5ae844cefbca51ad68ddc61ec6/0_0_2229_1489/master/2229.jpg?width=660&quality=85&auto=format&fit=max&s=9c3b593ab6a071e4fea3dfb07ae2882c","width":660},{"src":"https://i.guim.co.uk/img/media/e147616c606d7e5ae844cefbca51ad68ddc61ec6/0_0_2229_1489/master/2229.jpg?width=660&quality=45&auto=format&fit=max&dpr=2&s=764f3d4da06931925d062a28756d272e","width":1320},{"src":"https://i.guim.co.uk/img/media/e147616c606d7e5ae844cefbca51ad68ddc61ec6/0_0_2229_1489/master/2229.jpg?width=480&quality=85&auto=format&fit=max&s=1751ac7271d68d6e0ef64906c3386725″,"width":480},{"src":"https://i.guim.co.uk/img/media/e147616c606d7e5ae844cefbca51ad68ddc61ec6/0_0_2229_1489/master/2229.jpg?width=480&quality=45&auto=format&fit=max&dpr=2&s=46bb677a2875dbc92574e676b3d773ec","width":960}]}],"elementId":"d5a53ccb-fb62-45a9-bc03-21c588ef678d"}],"attributes":{"pinned":false,"keyEvent":true,"summary":false},"blockCreatedOn":1664728755000,"blockCreatedOnDisplay":"17.39 BST","blockLastUpdated":1664729358000,"blockLastUpdatedDisplay":"17.49 BST","blockFirstPublished":1664728892000,"blockFirstPublishedDisplay":"17.41 BST","blockFirstPublishedDisplayNoTimezone":"17.41″,"title":"Red card for Leeds' Luis Sinisterra!","contributors":[],"primaryDateLine":"Sun 2 Oct 2022 18.33 BST","secondaryDateLine":"First published on Sun 2 Oct 2022 15.30 BST"},{"id":"6339ba8d8f0883d28b586776″,"elements":[{"_type":"model.dotcomrendering.pageElements.TextBlockElement","html":"

It's been bruising, it's been brisk but it's not been from the top drawer. Both teams look a tad hesitant in the final third and also more preoccupied with leaving one in on their opponents. A single goal could steal it, and probably trigger a brawl, too. And nobody wants to see that.

","elementId":"37e36ebe-e3d7-4176-8028-3952b804e1b8″}],"attributes":{"pinned":false,"keyEvent":true,"summary":false},"blockCreatedOn":1664727693000,"blockCreatedOnDisplay":"17.21 BST","blockLastUpdated":1664727805000,"blockLastUpdatedDisplay":"17.23 BST","blockFirstPublished":1664727805000,"blockFirstPublishedDisplay":"17.23 BST","blockFirstPublishedDisplayNoTimezone":"17.23″,"title":"Half-time: Leeds 0-0 Aston Villa","contributors":[],"primaryDateLine":"Sun 2 Oct 2022 18.33 BST","secondaryDateLine":"First published on Sun 2 Oct 2022 15.30 BST"},{"id":"6339a0b58f0883d28b58663f","elements":[{"_type":"model.dotcomrendering.pageElements.TextBlockElement","html":"

Leeds: Meslier; Kristensen, Koch, Cooper, Struijk; Adams, Roca; Sinisterra, Aaronson, Harrison; Rodrigo. Subs: Klaesson, Ayling, Firpo, Bamford, Summerville, Llorente, Gnonto, Greenwood, Klich.

","elementId":"832d3703-0466-48e0-bc01-be288821acde"},{"_type":"model.dotcomrendering.pageElements.TextBlockElement","html":"

Aston Villa: Martinez; Augustinsson, Konsa, Mings, Young; Luiz, McGinn, Ramsey; Bailey, Watkins, Coutinho. Subs: Olsen, Sanson, INgs, Buendia, Nakamba, Bednarek, Dendoncker, Archer, Bogarde

","elementId":"961f0079-9b99-4bef-aebe-0c7af8d8b2be"}],"attributes":{"pinned":false,"keyEvent":true,"summary":false},"blockCreatedOn":1664721077000,"blockCreatedOnDisplay":"15.31 BST","blockLastUpdated":1664721139000,"blockLastUpdatedDisplay":"15.32 BST","blockFirstPublished":1664721139000,"blockFirstPublishedDisplay":"15.32 BST","blockFirstPublishedDisplayNoTimezone":"15.32″,"title":"The teams","contributors":[],"primaryDateLine":"Sun 2 Oct 2022 18.33 BST","secondaryDateLine":"First published on Sun 2 Oct 2022 15.30 BST"},{"id":"633804498f08ec87f1105e41″,"elements":[{"_type":"model.dotcomrendering.pageElements.TextBlockElement","html":"

Why is this game kicking off at 4.30pm rather than 2pm? One for the Premier League to answer, though Asian worldwide audiences may be the answer. Anyway, on with the show, where 13th takes on 14th. Leeds, a point above Villa, have enjoyed their season a little more than today's opponents, and have proved that a lack of Marcelo Bielsa need not mean a loss of their unpredictability, or even entertainment value. For Bielsa's bucket read Jesse Marsch, a manager whose rages at officialdom and all-American charm remind of a minor WASP character in The Sopranos. He's proven a few people wrong and has been a welcome addition, not least because he's quite amusing when he gets heated. Steven Gerrard meanwhile, continues to embrace life in Sisyphean fashion, carrying the weight of the Premier League on his shoulders despite being one of its all-time greats. Villa have improved a little over the last month, an impressive draw with Manchester City being followed by a win over Southampton. After losing to West Ham over the August bank holiday weekend, Steven looked in some trouble. Win here, and Villa fans can begin to look upwards again. Leeds will feel similar, but let's hope they can embrace the chaos and make this a fun one. Feels like that's their role today.

Kick-off at 4.30pm. Join me.

","elementId":"0e77d7f8-60d0-4e74-95d3-f6d1a40edecc"}],"attributes":{"pinned":false,"keyEvent":true,"summary":false},"blockCreatedOn":1664721039000,"blockCreatedOnDisplay":"15.30 BST","blockLastUpdated":1664713523000,"blockLastUpdatedDisplay":"13.25 BST","blockFirstPublished":1664721039000,"blockFirstPublishedDisplay":"15.30 BST","blockFirstPublishedDisplayNoTimezone":"15.30″,"title":"Preamble","contributors":[],"primaryDateLine":"Sun 2 Oct 2022 18.33 BST","secondaryDateLine":"First published on Sun 2 Oct 2022 15.30 BST"}],"filterKeyEvents":false,"format":{"display":0,"theme":2,"design":10},"id":"key-events-carousel-mobile"}">

main events
Full time: Leeds 0-0 Aston Villa
It's over, and it's ending as it's always been likely. Villa could not find a way to qualify after Luis Sinistera was sent off in the first part of the first half. They have their first point away this season but that is not enough for Steven Gerrard. Boos a full-time lot, from the visiting fans and the referee, who gave the red card delivered a letter Grammar Law. Fair result, frankly awful match.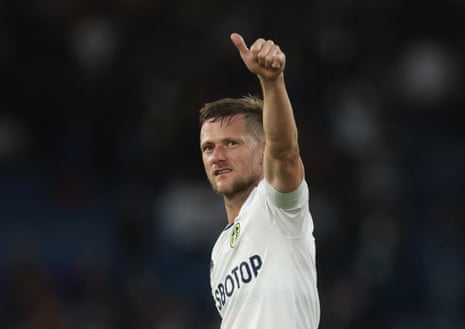 90 + 3 minutes: Leeds Chance: Bamford makes a clich, the goal is to beg and McCain runs back to clear the danger with a block. Great play by McGinn, it could have been a disaster.
90 + 2 minutes: Watkins tries to hook the ball with a great free kick, but it's very easy to keep it away. Then McGinn finds space, and sees his chance. and misses.
90 minutes: Four minutes of spherical disinfectant was added.
89 minutes: Late chance for the villa! Buendia's ball is great, and Watkins has succeeded. Meslier narrows the corner, keeps well, and on the sidelines, Steven lets out a primal scream in the nightky. His furrowed brow was now deeper than Ripple Valley.
88 minutes: Leeds plays five at the back, though more like a seven. More big cheers when Meslier gets the ball and drops it. At least their team was resolute. That's good for Coach Marsh. Stephen is the boss who has the biggest questions to answer. His youth was corrupt.
86 minutes: Sarcasm and cheers because the decision is going the way of Leeds. The game has descended to this level of deception.
85 minutes: The pressure is really on the villa here. Leeds returned in numbers and earned the Ashley Young cross. Leeds bodies get in the way, and Summerville's attempt to get the ball off the counter is in vain. Back to the villa for more.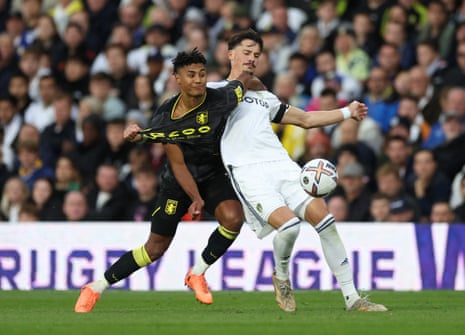 83 minutes: Sub villa. Stephen is going bankrupt. Jacob Ramsey leaves, Danny Ings comes in. Meanwhile, Robin Koch was booked, then Tyrone Mings poked a free kick behind the Villa attackers.
82 minutes: Sam Campbell again: "Richard Krivonozka's message, I think it's yellow because he put his leg in. If he's just standing there or getting off the ball it wouldn't be a reservation but he made a conscious effort to save so it's a reservation. I think that's true anyway."
I think so too.
81 minutes: Bamford was pushed by Tyrone Mings, and fans of the house enjoyed it.
Justin Kavanagh again: "It was a bad match, with bad refereeing, and bad decision making by both teams. However, the post-match press conferences will feature two of the smartest and most professional coaches in North America. Premier League. So there is this.
79 minutes: Aaronson can now lie down properly. He and Jack Harrison are called up. Cleese and Cresencio Summerville both come in.
78 minutes: Aaronson slips into space and organizes the Leeds attack. He apparently finished it off on the ground, claiming a penalty as he chased a loose ball after a shot from Bamford. Stuart Attwell dismissed that claim, as does the VAR, with Konsa removing the ball.
76 minutes: Watkins hit a direct hit on Mesler, Villa's first goal in the first half. They have problems in front of goal.
75 minutes: Adam Timmins, Hare Splitter, in touch: "Very quick point: there are no rules in football; there are laws of the game though…"
74 minutes: Coutinho lunges wide while Young quickly drags past the sick Ayling. Villa knocking on the door.
72 minutes: Buendia has space, and Liam Cooper's desperate dive can't stop him from shooting, although it probably does stop the shot off target. Then Firpo has to shake his head under pressure. Villa escalate this matter. A good corner kick Louise, Meslier misses the ball. Konsa can't reach it. Then FIA fans point out that Mesler is spending his time on a goal kick. There is not much love there. This is a grim old issue.
70 minutes: Aaronson down again, snagged by Ashley Young. Jack Harrison takes a free kick and passes newly arrived Patrick Bamford.
69 minutes: Richard Krivonozka communicates with him: "I watch the match as a neutral and don't agree that Stuart Attwell had no other choice. I think he just dropped his leg to slow down the free kick like a million players did before. What happened next was that the Villa player deliberately kicked the ball in the leg to get a second booking. For me this was the real unsportsmanlike behaviour, but expecting disciplined bots like Atwell to work on it and give the card to the real culprit was never likely to happen. Espp with Riley at the top of the pile."
Find out why VAR technology never works? Everyone sees things differently.
68 minutes: Luke Ayling replaces Leeds, Christensen leaves, followed by Patrick Bamford for Rodrygo.
66 minutes: A bad head-on collision when Ashley Young goes for the ball and then Amy Martinez goes off to hit Koch, who stays on the floor. Concussion protocols are required and cannons explode. Leeds down to nine men.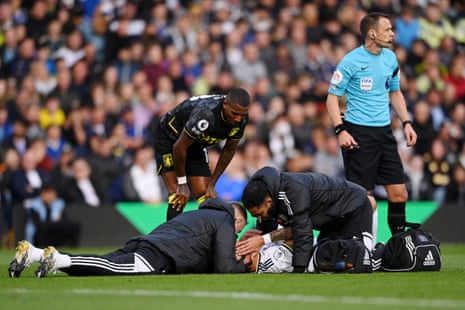 64 minutes: Big cheers and mockery as Leon Bailey was booked for losing the ball and then kicked it. And this is his last act of the inning: he knocked out Emmy Buendia. Shocked by horror, he and Coutinho will play together. But only against ten men.
62 minutes: Mary Francis, Leeds fan perhaps: "The referee's barracks is not unfair. Decisions are shamefully biased. Much worse interventions by some Villa players who don't get yellow – not to mention wasted time earlier."
Even if you think the Villa players should be booked, that doesn't mean Sinistera wasn't deserving of being sent off. Stopping the ball like that was really stupid.
60 minutes: Ramsey goes out for a shot, sees the glory, and misses out on the boisterous irony. On the sidelines, Stephen chews his nails.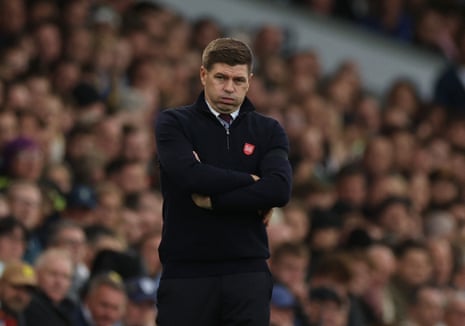 59 minutes: Marc Roca – Reservation? – Come on, Junior Firpo comes. In a show of rudeness, he tore off the black collar of his hand, a poor form considering what it represented. Coach Marsh reorganized his defense, hoping that Firpo could use his speed on the counter?
58 minutes: A couple of corners of the villa. Rodrigo cleared the first, and Mesler claimed the second in the second time of the question.
55 minutes: Another yellow Leeds. Koch will be booked for kicking Watkins' legs. The complaint is that Tyrone Mings got away with it shortly before that. In fact, he did a good job. Unreserved cottage. Atwell the referee seems to be losing the thread a bit here.
54 minutes: Leeds fans attack Stuart Attwell, and a little unfair. That expulsion wasn't Ray Tinkler's 1971 decision. Liam Cooper may be the beneficiary as he's running away from what looked yellow.
52 minutes: Villa really need to win this, the burden is on them. Failure to do so will only add more questions against Stephen.
50 minutes: Almost scored. Leon Bailey's cross, Coutinho's fall, and a barrage on the post. Watkins, throwing himself on the recoil, misses.
Red card for Luis Sinistra, Leeds player!
He takes a while to leave the field, a red card for a second booking, and that's his failure to step back after Ramsey's foul. He waved his foot in front of the resulting free kick. Silly, ridiculous, needless, Coach Marsh puts his head in his hands. Stuart Atwell had no other choice. These are the rules. Silly boy.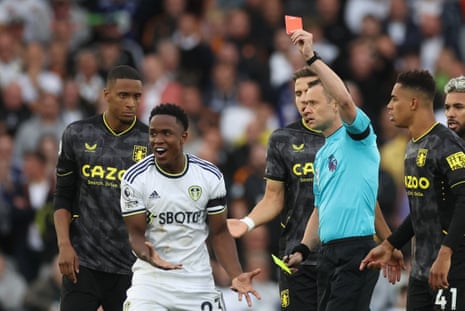 47 minutes: Leeds starts off quietly, choosing to keep possession. Ramsey then turned upside down in the first of many mistakes in 45 minutes.
46 minutes: We went back to Elland Road. What impact could Jesse Marsh's prolific notes have on this game? Villa Konsa plays at right-back in place of the unfortunate Augustinson.
Justin Kavanagh Zings in: "The mention of the great Joe Jordan made me realize what the Leeds team is lacking today. They are simply toothless up front."
Ireland Bill also: "I don't know why 1630 started, but it's more likely to target the North American TV market than Asia.
It's an 11:30 start in New York and 8:30 in Seattle, which is better than a 1400 start for viewers. For Asia, it's 23:30 in Manila, versus 21:30, so an early start would be better for me (although I don't know the habits of watching Asian sports shows). Australia is Sydney at 4:30 a.m. on Monday, so it looks like it's accommodating North America. I don't know if it has to do with widespread US ownership in EPL or if eyeballs are more valuable or something else. I know it's definitely going to be annoying for the local fans who want to watch Sunday's game late and go home to work on Monday. "
First Half: Leeds 0-0 Aston Villa
It was bruised, it was quick but it wasn't from the top drawer. Both teams are looking a little hesitant in the final third and also more preoccupied with leaving one of their opponents. One target could steal it, and possibly lead to a quarrel as well. And nobody wants to see that.
45 + 4 minutes: Ashley Young is at Wars Now, where Christensen leaves one on him. Unlike Aaronson, smaller is better at interference riding.
45 + 3 minutes: Jan Bednarek comes, on loan from Southampton, where Ashley Young plays as centre-back. Augustinson's injury could rule him out until after the World Cup – Sweden didn't qualify, of course.
45 + 1 minute: Jack Harrison tries to play Rodrygo, who crushes Konza, and a foul is made. And now the new man, Augustinson, appears to have colored his hamper. Yes, he feels his left thigh. game over. The game was a haven for someone making their first arc in English football. The tempo is higher than a night down the orbit at nearby Morley.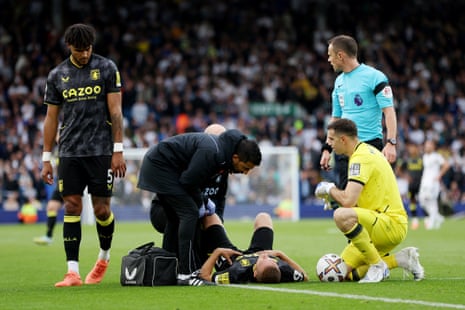 45 minutes: Sam Campbell in contact: "I don't support either side, but it's not hard to see why people are upset by the referee's inconsistency, when Rodrygo is booked to ask for someone to book but the referee allows Martinez to run about 40 yards from his goal to get him to go and look at VAR screen. Both are reservations or both. Referees sometimes make it more difficult for themselves."
Three minutes added to this skirmish in the first half in South Leeds.
43 minutes: Jesse Marsh would have done it had he been on the sidelines. As it is, he quietly takes notes behind plexiglass. Squad like a physical battle, a bit of a distance. Now I'm wrong about that, especially considering it's Leeds, always a tough school.