Last night was as close to the clock as I'd like the story of the game to be.
How it goes sometimes, but as John Rosen taught me, getting post-game quotes before the plane takes off is crucial, and I probably beat that limit by about 90 seconds last night. It was probably as tight on the wire as I was, minus one disaster when I was back in the 2019-20 season when my hotspot failed me and my WiFi fought to the death for a sucker.
Last night's recap was actually one of the shortest of the year, and many of it stemmed from a race against time. We've picked it up and taken it out, and that's it, but in the process, some important narratives have been missed, so I'd like to share it now and dive into it with a little extra detail.
Young players, veteran plays
Imagine this scenario.
There are less than four minutes left to the end of the match and the Kings are tracking with a goal. Teams skate 4-on-4 due to penalties rated less than 40 seconds apart, which is a great opportunity for the Kings to try to chase a goal. Picture in your head who you think might be on the ice in this situation……. Have you had Gabi Velardi, Kenton Byfield and Brandt Clark all playing together?
"I think players like Gabe and Quinton should take more from that, when we started taking penalties tonight we had Gabe and Q in a 4v4 position. As they continue to develop as young players and continue to play well, they are getting more and their level of confidence It should be really high right now."
It was this trio that completed the ultimate scorer – Matt Roy – in a key position late in the third half. The Kings needed a goal and the combination of Velardi and Bifield has been hot lately. Byfield took a huge step forward in his development process here early in the season, and his confidence in carrying the disc, and playing with it, has been remarkable. As is his chemistry with Velardi, the latter having already scored earlier in the match.
Also on the ice was Clark, who experienced additional transformations during the third period with the succession of kings. Clarke has been in the lineup for extra minutes with both Roy and Drew Doughty at times, with his attacking skill and ability to play on the left side giving him some extra icy time.
All four players on the ice made important plays during the sequence. Clarke was initially activated to take the first shot attempt, which Byfield recovered to keep the play alive. Velardi, positioned on point left, read a head-to-head when a Nashville player briefly left play to get a new stick off the bench, freeing Roy who slips off the right point. We all know the end result and he did nothing wrong in the end, Cal Petersen knew he was going to bury him.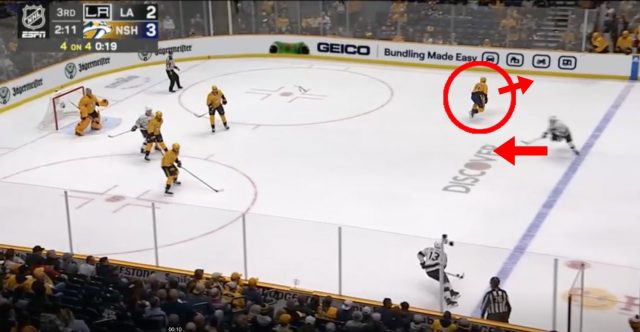 killers
The Kings put – statistically at least – their strongest performance of the season on penalties.
While last night's game featured fewer penalties in the attacking area, which is a clear area of ​​focus, the Kings did take their share of minor kicks, mostly in the process of defending. Four of the penalties were holding minors, which appears to be a point of focus. There was no bigger moment in overtime than the final 1:48, in which the Kings were cut short. Although it wasn't quite as clean, the Kings did a good job of keeping them small and getting cleared when they were needed, while a timely block from Mickey Anderson held onto a two-point chance. Cal Petersen cleaned up the rest, with several key tackles throughout the evening while shortening.
"I thought we had some good goals and I think the players were selling and blocking," Roy said. "I thought we were aggressive too, and that helps."
Todd McClellan always notes that the death penalty starts with the goalkeeper, and Petersen was probably at his best last night when the Kings were cut short. The Kings were shorted at 8:27 and Petersen saved eight saves during that time.
McLellan was complementing the goalkeeper in those situations, as well as the entire group to maintain their structure, especially during 4-on-3 overtime to get rid of the most dangerous looks in that situation.
"The goalkeeper saved and whistled when we needed to," McClellan said. "The stands and the recoveries were very good tonight. In the area, we had some big blocks, I thought we were smart with our penalty kicks for overtime, 4 on 3. We gave up on some shots but they weren't crosses and the execution was good."
For his part, Petersen squandered most of the credit for the players in front of him. Blocked shots are always something that would make a goalkeeper happy, and in a separate quote, Petersen praised Anderson for his efforts to deny during overtime.
"It just starts with blocking shots and taking us out, and when they were under pressure we reduced their chances and forced them into situations that either wasn't the play they wanted or it was a relatively easy save for me. The guys did a great job, and I think the penalties were very much our focus because That was something we've struggled with at times in the last year, and it starts with goalkeeping and goes on. When we're consistent like this it works really well."
Pick a penalty shootout
The players selected were clear choices – only 12 players have scored more goals in penalties in the past five seasons than Kevin Villala, who has gone up front, while Gabi Velardi has been a key player in those situations.
But the question that had to be asked… Coming off a double-take performance, where was Matt Roy on the list?
"You know what, I've had a few guys that mentioned number three," McClellan said with a laugh. "But we've seen all our D take shots in the show season and they're a little off the line."
It's hard to argue with a picture-perfect moment from Velardi, as he brought back the game's winning goal from the AHL in 2019 to win an NHL game nearly three years later!
they say Tweet embed Is the development of the league…… ☔️ pic.twitter.com/7FLYcJp9TP

– Zach Dooley (@DooleyLAK) October 19, 2022